Everyone deserves to get away from work and enjoy some rest and relaxation from time to time. However, many homeowners in Singapore often neglect the need for home security in the midst of the excitement of planning their vacations. But ensuring your home is safe during your absence is often as crucial as your holiday destination. After all, the last thing you want is to worry about a break-in while you are away. 
Fortunately, you can guarantee peace of mind by taking several precautionary measures to secure your property from potential break-ins. Let us share how to safeguard your home while on holiday, ensuring you can enjoy your trip worry-free.
1. Invest in a quality home security system
Are you looking for a way to keep an eye on your home while you are away? That is possible with a quality home security system. A CCTV system is a must-have, as they are an effective deterrent to potential intruders, making them think twice before targeting your property. Most modern CCTV cameras even integrate with your mobile devices, allowing you to monitor your home in real-time for suspicious activities. 
Another feature you should not overlook for your home security system is a security alarm. Implementing a security alarm system and connecting it to your smartphone allows you to receive notifications in the event of an unauthorised entry attempt. You can even set up your alarm system to notify the relevant authorities when a break-in happens.
Learn More: Reasons to Invest in Home Security Alarms in Singapore
2. Lock and secure all windows and doors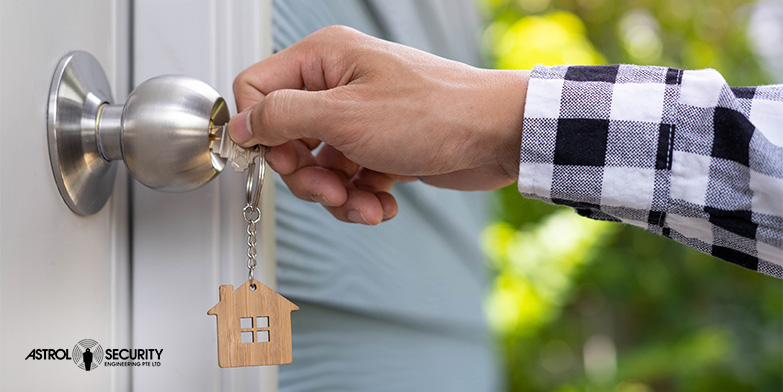 Even the best security alarm system can be circumvented by the simple negligence of a homeowner forgetting to secure their windows and doors. Burglars often seek easy access points into your home, and an unlocked door or window is an open invitation. So ensure you check and double-check that all entry points are secured before departing for your vacation. 
Additionally, we recommend reinforcing sliding doors with a sturdy bar and upgrading to deadbolt locks for added security. Do not forget to close your blinds if your home is situated on the ground level so that potential intruders cannot peek into your property. Following these safety measures can reduce the chances of a break-in significantly.
3. Do not announce your travel plans on social media
In the age of social media, sharing our daily activities online has become second nature. While it can be tempting to share your travel experiences with friends and family, you might want to keep your amazing vacation photos in your phone gallery or memory card until you return home. 
Telling your online followers about your trip and posting pictures while on vacation is essentially the same as announcing your home is unattended, providing criminals with an invitation to target your home while it is vacant. If you must share your photos, ensure your share setting on social media is set to private or "Friends Only". Remove the geotagging feature as well, so strangers cannot view your social media feed and determine you are away from home.
4. Get a friend or relative to house-sit
Criminals often canvass their targets before making their move. So one of the most effective ways to deter burglars is to give the impression that your home is occupied. For the duration of your vacation, get a friend or relative you trust to house-sit or stop by so that it appears as if someone is home. Simple, routine actions like watering the plants, removing stuffed flyers from the gate, or turning on the lights or radio from time to time can help achieve this goal.
Your home is your sanctuary, and ensuring its security while you are away is a responsibility that should not be taken lightly. By following the preventive measures outlined, you can significantly reduce the risk of burglary and damage to your property, allowing you to relax and enjoy your well-deserved vacation without worry.
If you seek quality, reliable security systems for your home, look no further than Astrol Security! As one of the leading security service companies in Singapore, we offer an extensive selection of CCTV and security alarm solutions tailored to your individual needs. Visit our website to browse our comprehensive catalogue today.