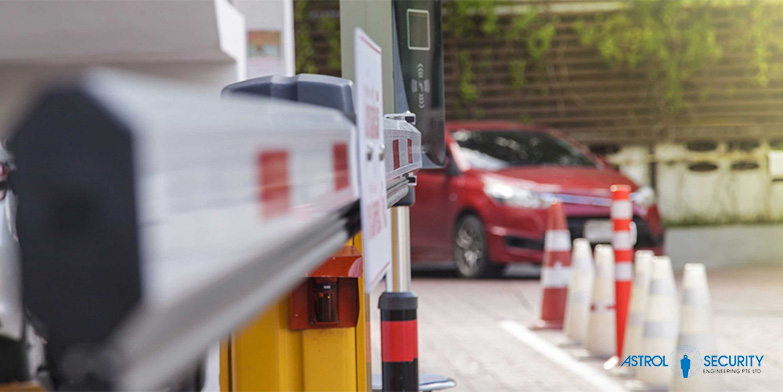 Any mention of license plate recognition (LPR) systems would probably bring to mind associations with law enforcement authorities and homeland security. However, you might not realize that other public and private sectors with CCTV installations can benefit from having this system as part of their security details.

In fact, we will posit that a license plate reader should be necessary for specific locations. An LPR system uses advanced software and cameras to scan and read license plates, allowing organizations to identify and track vehicles in real-time, allowing you to enhance security, improve traffic flow, and gain valuable data. Let us share the four places that can benefit from an LPR system.
Location #1: Commercial retail malls
It is a no-brainer that commercial retail malls can benefit significantly from LPR systems. With a secure parking facility to manage, a license plate reader system can help facility managers track which vehicles enter and exit the premises, monitor parking areas, and ensure that cars are parked legally without additional manpower required. This helps prevent congestion and ensures that parking spaces are available for customers.

Additionally, LPR systems can provide valuable data on traffic patterns and visitor demographics, allowing mall owners to make informed decisions about marketing and security strategies. And in conjunction with a robust CCTV system, it can serve as a deterrence to criminals and help security personnel determine the location of a perpetrator's vehicle.
Location #2: Government facilities
Government buildings might be most vulnerable to potential attacks and infiltrations. Therefore, security details are trained to look out and inspect any car entering or leaving the facility. A CCTV system with LPR features can help enhance security by identifying unauthorized vehicles and preventing them from entering restricted areas.
Furthermore, LPR systems can help streamline visitor management by allowing security personnel to quickly and accurately identify authorized visitors through their vehicle's license plate number. Hence, improving the overall operational efficiency while ensuring security is not compromised.
Location #3: Condominiums
Given the daily comings and goings, LPR systems are highly beneficial for condominiums and other private residential communities in Singapore. In addition to providing valuable data on traffic patterns to improve traffic flow within the community, the system helps prevent unauthorized vehicles from entering the facility, enhancing security while reducing the number of security personnel needed to guard the entrance. It can also help monitor parking areas, ensuring residents park in their designated spaces.
Location #4: Schools
Learn More: Keeping Your Home And Business Safe With Astrol Security
Traffic congestions are a familiar sight at the start of every school term. Beyond faculty members driving to work, parents are dropping off their children at school. LPR systems can help improve traffic flow, allowing faculty members with registered vehicles to enter the school seamlessly. This helps prevent congestion and ensures emergency vehicles have clear access to the school when necessary.

The LPR system can also be used in conjunction with CCTV installations to help enhance security by monitoring the school's parking areas. Any unauthorised vehicles can be identified and flagged to security personnel, preventing individuals who do not belong on school grounds from entering the property.
As you can see, an LPR system has a broad range of uses for both the public and private sectors. So if you seek a way to enhance security and improve traffic flow within your premise, you can consider implementing an LPR system alongside your CCTV installations. You can save on manpower costs while maintaining a precise record of every vehicle entering and exiting your premise. 
If you are interested in implementing an LPR system for your organization, look no further than Astrol Security for your security needs. We offer an extensive range of security products and services, including LPR systems and CCTV maintenance. Do not hesitate to visit our website today to browse our comprehensive catalogue.